Smart camera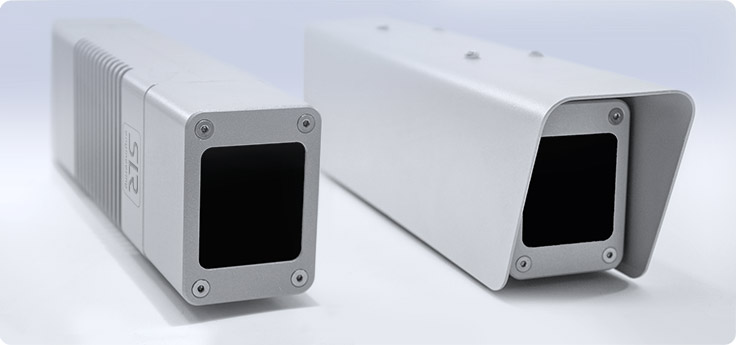 Concept
Hardware specification
Prototype
The SLR Engineering smart camera offers high processing power provided in a small embedded platform which is ready to be installed in outdoor environments. The device is passively cooled and contains a heating element to prevent fogging of the lens protection glass. Rain and snow do not pose a problem for the camera hardware.
The camera is aimed at computationally intensive video analysis applications for traffic monitoring, safety or security applications. We have designed the smart camera for development of our own video analysis sensors. It offers a proven SW environment which is tailored for real-world development and application.
The OpenCV computer vision library is at the core of our system, extended by the SLR Engineering vision modules and additional SW libraries for configuration management, communication and visualization. The camera is designed to run under Linux, but can also be run under Windows.
One of the main benefits of the camera design is its compatibility with the Linux operating system. This means that SW which has been written on a Desktop PC can be directly compiled for and/or executed on the camera without modification.
At the heart of the camera is the Intel Atom 1.6 GHz processor with hyperthreading and the SSE3 instruction set. These features allow a developer to move software which has been created and optimized on a standard desktop PC, directly to our camera, reducing the development time for applications.
CPU:

Atom Z530 1.6 GHz, with           hyperthreading and SSE3 instruction set

Memory:

Storage:

30 GByte internal SSD harddisk, optional internal CF memory card, bigger storage capacity on request

Power supply:

12V, 15 W max. indoor
12V, 30 W max. outdoor

IO interfaces:

1x GBit ethernet port
4 digital I/O (2I/2O)
DVI video interface (indoor)
1 USB (indoor)

Image sensor modules:

1/3" VGA 640 x 480    @ 60 fps, color or B&W
1/3" XGA 1024 x 768   @ 30 fps, color or B&W
1/2" SXGA 1280 x 1024 @ 19 fps, color or B&W
C-mount lens adapter with lenses from 4 - 75 mm
SLR Engineering develops new smart cameras, which combine ARM processors technology and industrial grade imaging sensors. The ARM processor offers very good processing capabilities (up to 8 cores at 1.8 GHz) at relatively low power consumption. The new smart cameras run full Linux with all necessary drivers for imaging, video decoding, and even hardware supported video encoding. SLR has already optimized its video analytics software for the new hardware. For example ALPR can run at >20 fps at VGA resolution. The housing will be IP66 standard with a the temperature range from -20 - +50 deg. The new cameras will be available in Spring 2015.