| | | |
| --- | --- | --- |
| 3D surface inspection | | |
Mandrel bars are used in the production of steel pipes. Their application imposes an extremely high thermal and mechanical stress on their surface, which leads to degradation over time. The inline inspection system developed by SLR Engineering creates a high-resolution 3D image of the surface of mandrel bars in real-time during production. The resulting detailed surface map is then analyzed for defects.
Solution
Advantages
Workflow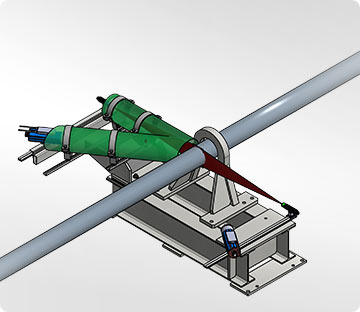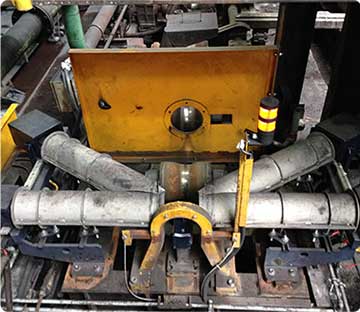 The inspection system employs two scanning units, each consisting of a high speed laser scanners with attached industry PCs for data processing. The scanners are protected by tubing, which allows an operation at high temperatures. One sensor unit can map 1/3 of the mandrel bar circumfence. Profiles are created at high speed (10 kHz) and in high resolution. These raw profiles are transmitted to the processing units, which are responsible for calibration, data reduction and assembly of final surface data, which is then stored on the frame processors. A graphical user interface allows access to the scanner over the network in real-time. Furthermore, the archive of previously scanned surface data can be accessed with this interface.
Product advantages

real-time inspection
integration in production line
scanning depth resolution 0,1 mm (0.004")
min. depth of defects 0,25 mm (0.010")
min. lenght of defects 2,5 mm (0.01")
max temp. of mandrel bar surface 600°C
max. mandrel bar speed 3m/s (10 ft/sec)
total inspection time approx. 15 sec (25 m bar)
Synchronization with external feed rate measurement

Analysing surface properties

overall roughness
number and density of cracks
min/max lenght of cracks
number and area of holes
depth of holes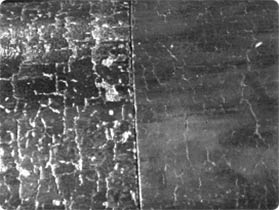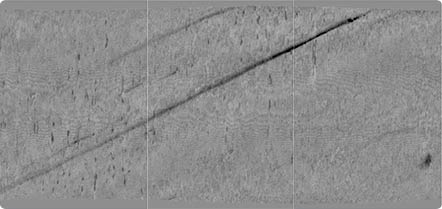 | | | |
| --- | --- | --- |
| Optical image: surface with a multitude of fire cracks (left) and a surface with much better quality (right) | | Depth image: darker gray values show deeper deviations. Width of the dark crack is approx. 2.5 mm (0.1"). |

Raw surface profiles are acquired by the sensors and then sent to the measurement PCs, which convert them into accurate profile measurements (flattening of cylindrical surface). After the defect analysis the results are transmitted to workstations as well as to the data storage.
Operator interface
The operation of the sensor is designed so that workstations in a local network have access to all captured mandrel bar data sets. The user interface allows the online monitoring of the inspection system and visualization of individual scans. Aditionally, we offer a separate software module for offline analysis of scanning data. A quality evaluation module further processes the measured properties of the surface. It can log defect statistics or, in the case of critical defects raise an immediate alarm. Thresholds for sensitivity can be adjusted for every defect type.
The following images are examples of the offline analysis module: